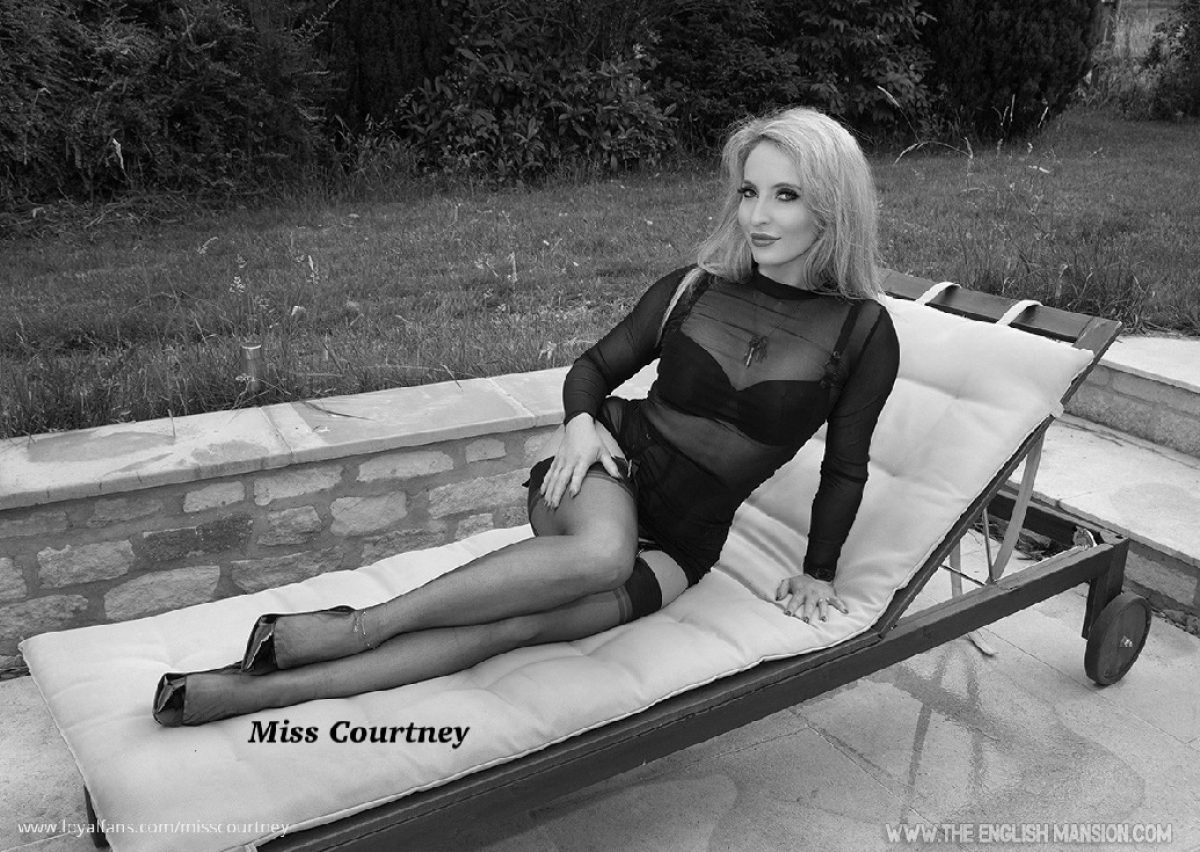 "Chastity play intrigues and excites me. If the thought of your cock all tied up with no escape and hidden under your clothes as you go about your daily routine sends shivers down your spine and intrigues and excites you then get in touch. For you, going to the pub, walking into work and even waking up at night with the hard metal or plastic pressed against you can be exhilharating … our naughty secret!
Imagine the excitement of wondering whether those trousers you wear to work are too thin and reveal your permanent erection. Will a co-worker spot something glistening as you zip your trousers up in the gents? It is the ultimate submission from you and gives Me the ultimate authority."
Miss Courtney
Miss Courtney ist eine wirkliche High Class Mistress und professionelle Domina und bietet BDSM-Sessions für Männer, Frauen und Paare an, die ihre unterwürfige Seite erkunden möchten, indem sie ihre Herrin anbeten und vergöttern.
Miss Courtney besitzt einen eigenen Dungeon in North Hereford (UK), den sie unter anderem zum Filmen für ihre Clips nutzt (www.c4s.com/97973).
Die wunderschöne Lady ist sehr anspruchsvoll und streng, aber auch verführerisch und sanft. Sie versteht es wie keine andere Gedanken zu manipulieren. Miss Courtney ist verwöhnt und verdient es verwöhnt zu werden. Sie ist natürlich dominant, gewohnt respektiert zu werden und erwartet unbedingten Gehorsam.
Miss Courtney hat unglaublich hohe Ansprüche und erwartet, dass diese erfüllt werden oder sie zumindest den ernsthaften Willen erkennen kann, ihren Standards zu genügen.
Keuschhaltung ist einer ihrer favorisierten Fetische und Miss Courtney bietet dies auch über längere Distanzen an (unter anderem auch per CellMate AppControlled Chastity).
Sie genießt es wirklich die vollständige Kontrolle über eine Person zu besitzen. "If I control your body – I control your mind. you become My willing toy"
"Warnung ;)" Die Lady ist sehr erfahren in Keuschhaltung, Cuckolding und Tease & Denial und macht davon hemmungslos Gebrauch – es ist unwahrscheinlich schwer Ihren Reizen zu widerstehen!
Miss Courtney's Keuschhaltungs-Programme sind abgestuft und können auch auf die Person direkt abgestimmt werden:
1. The 'Relinquishment' Weekly Package
2. The 'Powerless' Monthly Package
3. The Ultimate Tease Package will allow you to be used for Miss Courtney's pleasure only (meine Empfehlung *)
Der Kontakt findet per WhatsApp statt, in allen Programmen ist eine Mitgliedschaft für Miss Courtney's LoyalFans Site enthalten. Die Bewerbung um Keuschhaltung erfolgt per Mail, alle notwendigen Daten sind auf Miss Courtney's Website enthalten.
Miss Courtney ist LADY CITIZEN & REGIONAL COURT EXECUTRIX OF WOMANIA EMPIRE
eine kurze Szene aus dem Video "Locktober 2021 is here"
Miss Courtney - The perfect keyholder for your cock!
Was andere sagen / what other said
A very lovely Mistress to serve indeed. I've had to pleasure of 2 online chastity session with @MissCourtneyM and the connection is so amazingly real. If your hesitant don't be reach out to Mistress on her webpage and write a nice letter of acceptance … you will not regret this

— submissivespectre (@submissivespec1) October 7, 2023
Miss Courtney
Anmerkungen / Annotations
* ich werde aktuell von Miss Courtney keusch gehalten, sie hat mir gestattet, einen Bericht darüber zu schreiben (folgt)
** Beitragsbild: Szene aus den 3D VR Video "Jerk To My Stockings & Heels – VR" (The English Mansion)